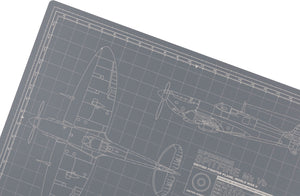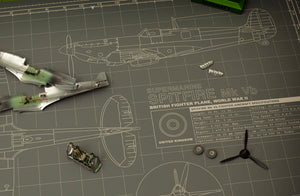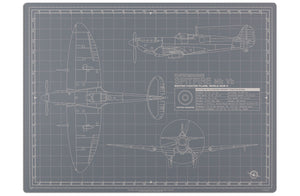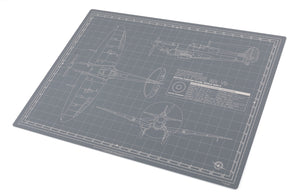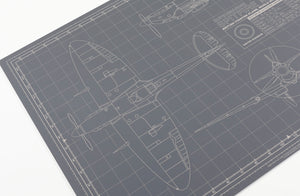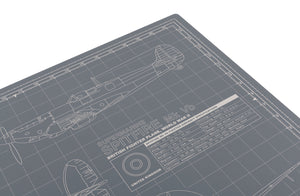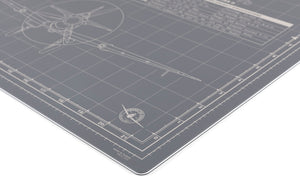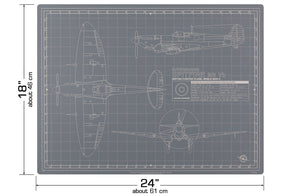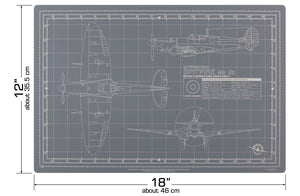 Attention International customers!
You may be charged additional administrative fees, duties or taxes that are not covered by the shipping amount paid prior to delivery in your country.

Please see the FAQ page for more details about potential extra costs when shipping outside of the United States.
Spitfire Model Builder's Cutting Mat
Are you still using Grammy Pearl's sewing mat on your build bench? Upgrade your work area today with our Pro Modeler Mat and start making models on a better surface. Yeah, it's got a Spitfire fighter plane on it!

Designed for scale model builders
Part of our Airkrafter Series cutting mats
3mm thick heavy-duty 3 layer construction
Self-healing material
Available in 2 sizes - 12x18 and 18x24 inches

Inch grid with centimeter border
RAF ocean grey color

It just looks better on the bench!
IMPORTANT INFO: Store your mat flat out of direct sunlight. Keep away from extreme hot and cold temperatures. Avoid making repeated cuts in the same location. While the PVC material is resistant to most chemicals used in modelling, spills of thinners, glues or paints will most likely smudge the print.
OUR GUARANTEE: If you're not completely satisfied, contact us within 30 days of delivery so we can make it right.

See the FAQ page for more details.

Already got one? Please leave a review below!