Categories
How do I care for my mat?
Store your mat flat out of direct sunlight.
Keep away from extreme hot and cold temperatures.
Avoid making repeated cuts in the same spot or bearing down with gorilla like force. Yes, it's called a self healing cutting mat, but it's not indestructible!
While the PVC material will resist most chemicals used in modelling, the print will not. Don't wipe up spills. You'll smear the printing. Either carefully blot with something absorbent or wait for the spill to dry.
You can clean using mild soap and water. Dry with a soft towel.
Where are the mats made?
The mats are designed in the U.S.A. and manufactured in Taiwan.
What are the mats made out of?
They're made out of 3 sheets of 1mm new PVC material laminated together to form a mat that's 3mm thick. A hard center layer is surrounded by 2 self-healing layers. The surface layers can be cut by sharp blades without being overly damaged. The hard center prevents the blade from going all the way through.
Don't be fooled by cheaper less quality mats. 3 layer lamination is the way to go. Single layer mats don't provide adequate surface protection. Mats made from 5 layers usually have 2 very thin veneer layers of material on the outside and 3 inner layers of cheaper material.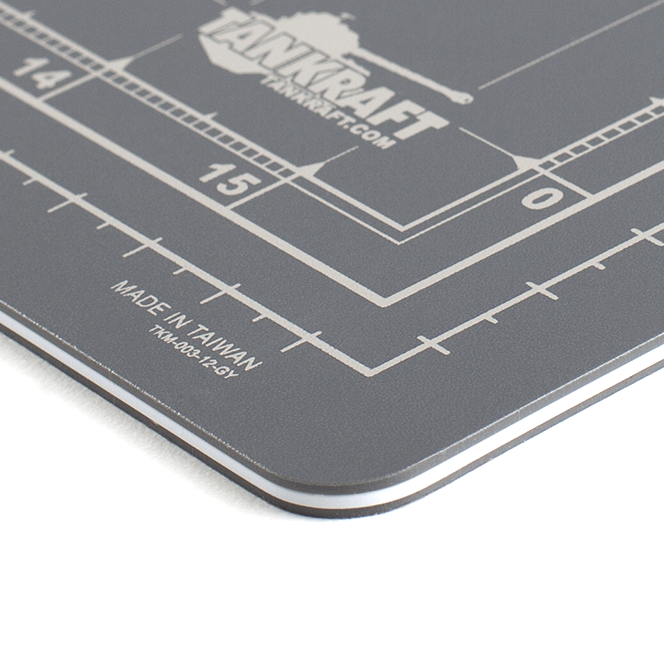 What are the exact measurements of the mats?
The mats measure exactly as described. The dimensions given are not the dimensions of the grid or rulers. For example, 18x24 mats actually measure 18x24 inches.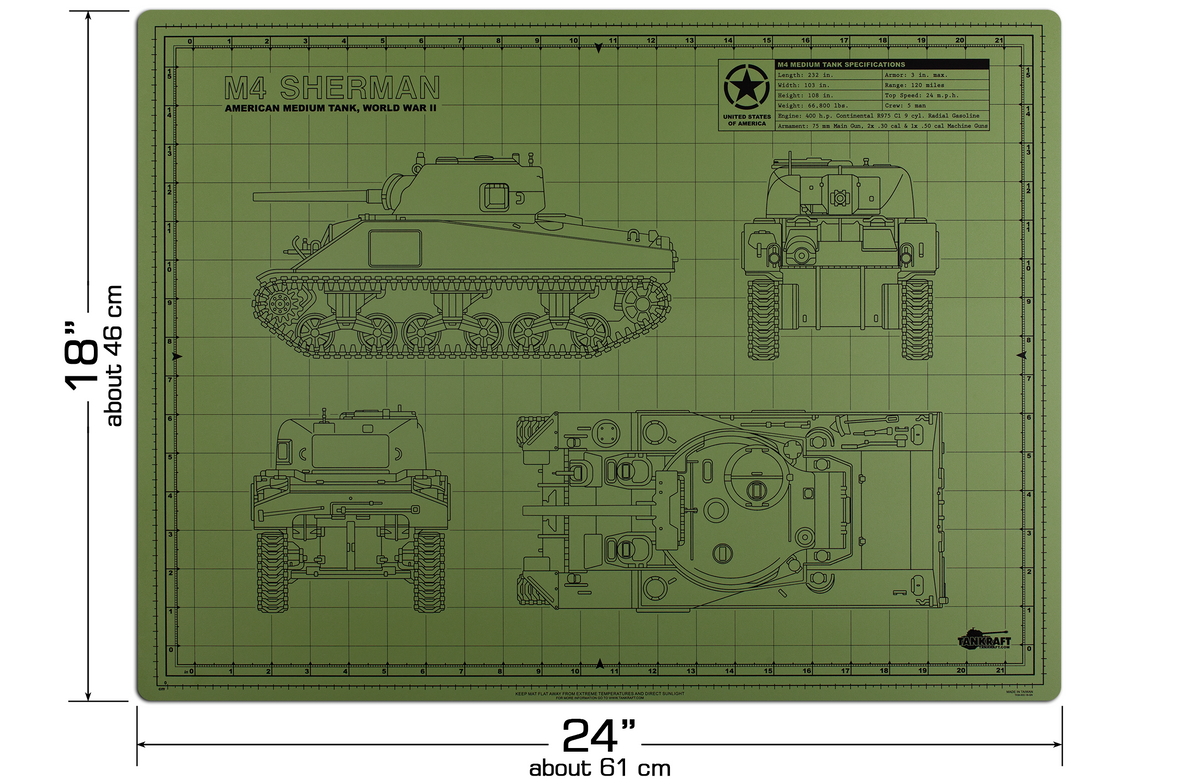 How much do the mats weigh?
The 12x18 mats weigh 1lb 4oz (.56kg) and the 18x24 mats weigh 2lbs 7oz (1.1kg).
Can I use the lines and grids to measure stuff?
Absolutely! The centimeter border and inside inch grid are accurate. The small squares along the inch lines are 1/16th of an inch.
But, really, when's the last time you actually used your model mat to measure anything? These are made for durability and good looks!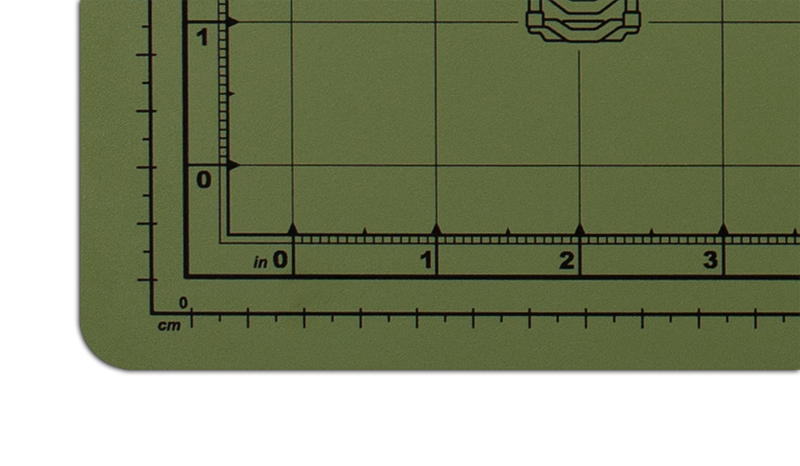 Is there print on both sides?
No, the mats are printed on one side only.
Are you going to make other sizes?
We picked 12x18 and 18x24 as these sizes are best suited to scale model builders and can easily fit on most work surfaces.
At the moment there are no plans to produce other sizes.
Do you really model from real tracks?
Yes! ProTracks are modeled from real tank tracks. Meaning someone physically measures and photographs actual surviving examples for the 3D designers to work from. Minor adjustments might have to be made to fit as many model kits as possible.
We also work with period technical drawings if available and consult with noted experts in the field for historical accuracy.
There are certain rare track links that no longer exist. Only in this case will we rely on photos, drawings and expert advice to produce the models. This will be noted in the product description.
ProTracks are as real as it gets!
Why don't you use brass pins?
Tankraft ProTracks are designed to be realistic from all angles. While it's possible to make somewhat authentic looking metal pins it's not feasible due to the custom tools and dies required to manufacture them.
Resin pins work just fine with a little care and patience.
Do I need to use glue?
A tiny drop of cyanoacrylate glue just under the pin head is a good idea for final assembly.
The small ribs on the pin shaft will help keep the glue from spreading too far and rendering the tracks inoperable.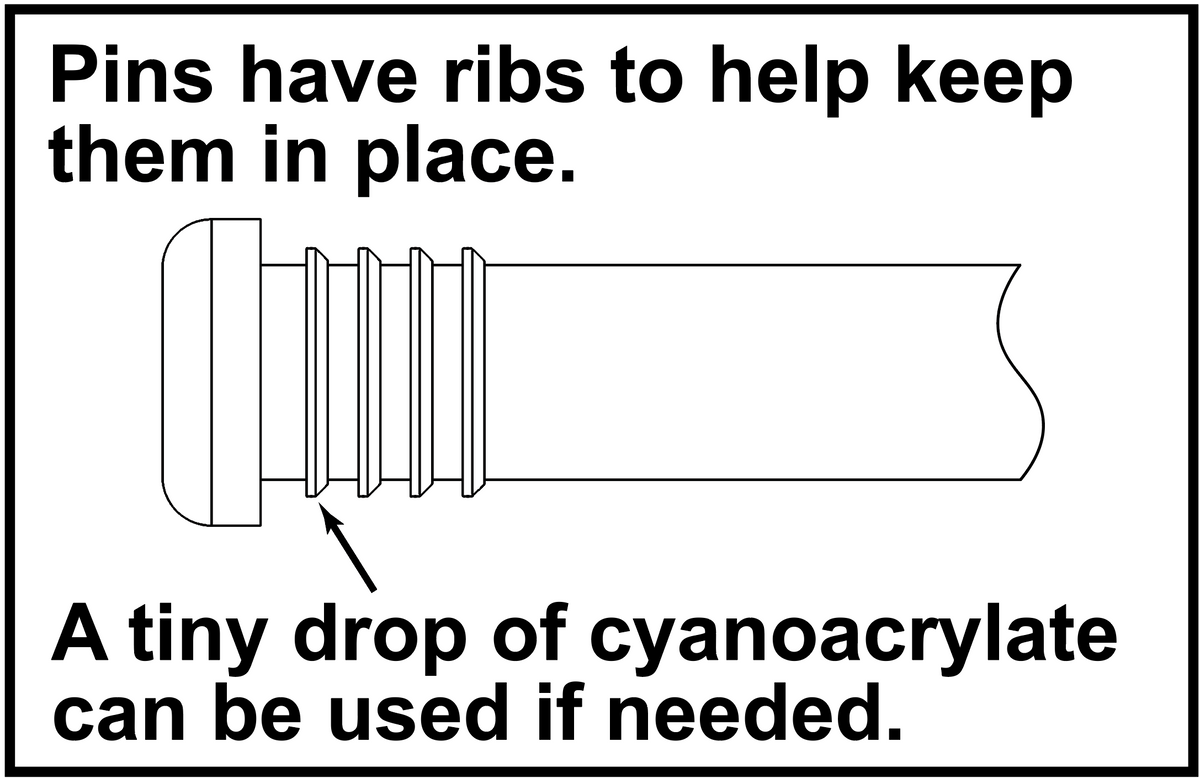 Why won't the pins fit?
You'll find that most track pins will seat properly in place with little effort. 3D printing tolerances at this scale, however, are not perfect. A bit of extra cured resin, speck of dust or support debris can throw off the dimensions.
Try a new pin or link, or clean out the hole with the appropriate size drill bit listed in the assembly instructions.
Do not force the pins - they will break!
Recessed pins can be fully seated with a blunt toothpick. Sharp metal objects or your fingernail will usually break the pin head.
There are plenty of extras included. Please contact us if you find too many duds in your package.
What brand cements will The Glue Base hold?
The Glue Base will hold most major brand modeling cements in square or round bottles - Tamiya, AK, Mr. Hobby and Ammo. The optional foam insert gets a better grip around the Ammo round bottles.
What comes with The Glue Base?
The Glue Base comes with the aluminum base, a foam holder insert and optional peel and stick rubber base pad as shown below.
What's included with the Titanium Hobby Knife?
The Titanium Hobby Knife comes with the knife handle, threaded cap, one blade installed, ten extra blades, a split ring for hanging, and a spare rubber o-ring.
Will The Rollstopper fit my favorite hobby knife?
Of course, it was designed for the Tankraft Titanium Hobby Knife!
It will also work on any standard craft knife with an 8mm diameter handle.
Are the tees printed on demand?
No. The tees are in stock and ready to ship. They're premium shirts printed for us in the USA.
How do they fit?
The tees are constructed with side seams rather than from a tube of fabric like lesser quality shirts. This means they will fit less boxy than average tees.
Order a size larger if you like your t-shirts more roomy. There can be some shrinkage after washing.
Take a look at the sizing chart on the product page and compare the measurements to a shirt you already know fits.
How do I care for my tee?
It's best to turn the shirt inside out and wash in cold water. Tumble dry on low heat. Do not use chlorine bleach or iron the printing. Put on and build some tanks!
Why do you require my phone number?
Your phone number can assist with delivery if there are any issues encountered by the carrier, especially with international orders.
Your phone number is never shared with anyone outside of the ordering and shipping process.
Where do you ship from?
All orders placed on this website will ship direct from Florida, USA or North Somerset, UK.
How do you ship the mats?
Mats are packaged in a protective plastic sleeve and shipped flat in a rigid heavy-duty mailer.
Shipping charges will appear during check-out.
Items will ship via UPS, FedEx, USPS or DHL depending on your location.
Why are certain items not available in the UK?
We've partnered with Premium Hobbies to ship Pro Modeler mats to UK customers. Since they only stock the mats our other products have to be shipped from the US.
If your UK cart contains a mat and another non-mat item you will receive an error message at check out. Simply remove the unavailable item and continue checking out.
You can then place an order for other products direct from the US.
How are shipping costs calculated?
In the lower 48 US states Pro Modeler Mats ship for a flat rate of $9.99. All other items ship for free.
UK orders of Pro Modeler Mats ship for $9.99 from the UK. Other items ship by calculated rates from the US.
For everyone else shipping cost is calculated based on the weight of items ordered and your location.
Shipping charges will appear during the check-out process.
Do you ship worldwide?
Yes! We ship worldwide.
Please note that any additional fees, duties or taxes are the responsibility of the buyer and are not covered by the shipping cost quoted.
Mats can be shipped anywhere. Some other items may not be available to ship to your location, however.. You will receive an error notice when checking out. Just remove the item and continue to check out as normal.
Your order may be cancelled if we cannot ship to your location due to import restrictions or some other issue. A full refund will be provided to the original payment method.
Why is international shipping so much?
Yes, we know that international shipping rates are high and getting worse.
This is mostly an issue with the large mats due to their size and weight. They do not qualify for cheaper USPS First Class rates and must ship Priority or via other carriers which can be expensive.
The small mats and most of our other products can be shipped First Class at more reasonable rates. You will get shipping costs to your location at check out.
When will I get my stuff?
All orders ship within 2 business days.
Tracking information will be provided once your item ships. Orders within the continental U.S. should arrive in 5 to 7 business days. We can't accurately estimate shipping times for overseas orders, but it should not take more than 21 days to reach most locations.
Is express shipping available?
No, we don't ship overnight or express due to cost considerations. Customers in the USA should receive their order in 3 to 5 business days.
But hey, they're worth the wait!
How do I return my product?
There's no need to return anything.
Just send us an email within 30 days of delivery if you're not completely satisfied with our product for a replacement or refund.
Please include your name, email, order number and a brief description of the issue with your request. Photos of any damage would be helpful too.
Refunds will be sent to the original payment method.
Do you sell your products wholesale to dealers?
Yes, we'd love to work with you!
Dealers must have a hobby related storefront and/or website.
Please contact us at sales@tankraft.com for more information about becoming a Tankraft authorized retailer.
Where are you located?
We're located in Florida, U.S.A. Here's our business address:
Tankraft, 422 S. Military Trail, Deerfield Beach, FL 33073
What's the best way to get in touch?
Email is the best way to contact us: info@tankraft.com.
We try to respond to all emails within 24 hours. Please check your spam folder if you don't receive a reply.