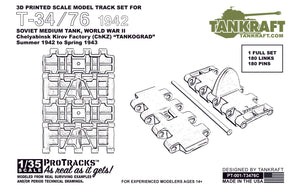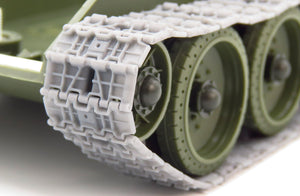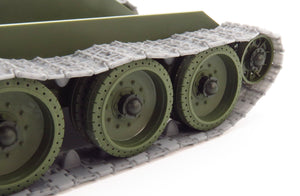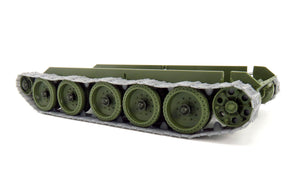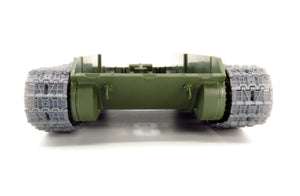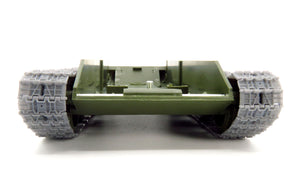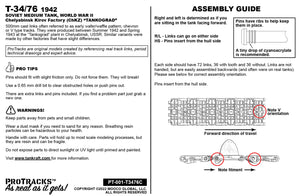 Attention International customers!
You may be charged additional administrative fees, duties or taxes that are not covered by the shipping amount paid prior to delivery in your country.

Please see the FAQ page for more details about potential extra costs when shipping outside of the United States.
T-34/76 ChKZ 1942-43

SOVIET MEDIUM TANK, WORLD WAR II
Chelyabinsk Kirov Factory (ChKZ) "TANKOGRAD"
Summer 1942 to Spring 1943
500mm cast links often referred to as early wafer/waffle pattern, chevron or V type tracks. They were produced between Summer 1942 and Spring 1943 at the "Tankograd" plant in Chelyabinsk, USSR. Similar variants were made by other factories that have slight differences.
Ultra realistic 3D printed workable links and pins

Original models based on real tank tracks

Designed by Tankraft
Steel grey color

180 links & 180 pins included

They just look better on your tank!
Check out the review at Armorama.com!
See SprewsNBrews video review at YouTube! And some weathering here!
Shown on Tamiya T34/76 ChTZ Version 1943 Production kit no. 35149. Other suitable kits: Ark Models 35042; Dragon 6424 & 6401; and Academy 13505.
IMPORTANT INFO:
Keep parts away from pets and small children.
Wear a dust mask if you need to sand for any reason. Breathing resin particles can be hazardous to your health.

Handle with care. Parts will hold up to most scale modeling processes, but they are resin and can be fragile.

Do not expose parts to direct sunlight or UV light until primed and painted.

OUR GUARANTEE: If you're not completely satisfied, contact us within 30 days of delivery so we can make it right.

Already got one? Please leave a review below!