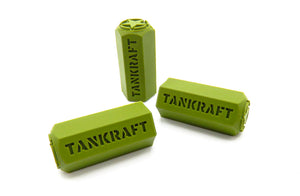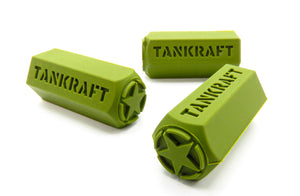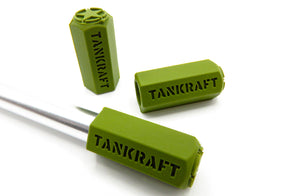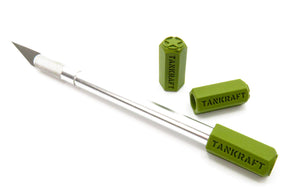 Attention International customers!
You may be charged additional administrative fees, duties or taxes that are not covered by the shipping amount paid prior to delivery in your country.

Please see the FAQ page for more details about potential extra costs when shipping outside of the United States.
The Tankraft Rollstopper
Oh no, there it goes! That's your hobby knife rolling off the bench again. Stop the roll with the Tankraft Rollstopper. Just slide this little green puppy on the end of your handle. Your feet will thank you!

Made from 100% silicone

Military olive green color

Works with any standard 8mm diameter hobby knife

25 mm x 12.5 mm

3 pack - Includes 3 Rollstoppers
IMPORTANT INFO: Hobby knife is not included. Check out a really cool titanium hobby knife right here! The Rollstopper is designed to help prevent your knife from rolling on its own inadvertently. It will still roll if you push it or throw it at your bench. (Please don't throw things at your bench)

OUR GUARANTEE: If you're not completely satisfied, contact us within 30 days of delivery so we can make it right.

Already got one? Please leave a review below!