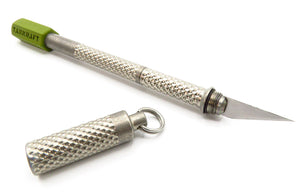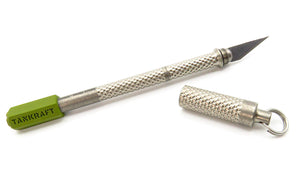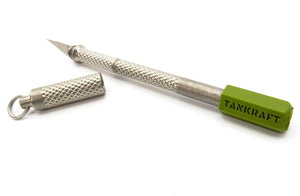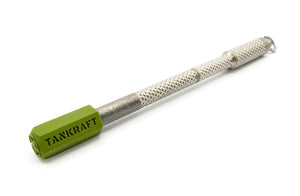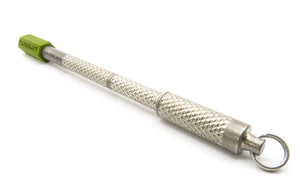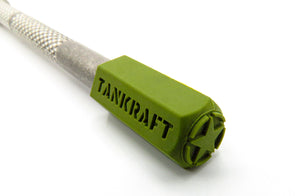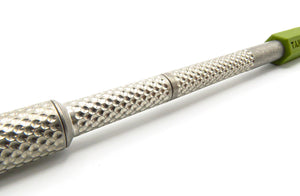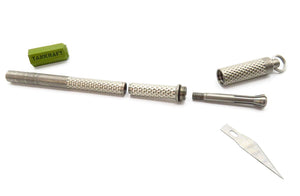 Attention International customers!
You may be charged additional administrative fees, duties or taxes that are not covered by the shipping amount paid prior to delivery in your country.

Please see the FAQ page for more details about potential extra costs when shipping outside of the United States.
The Tankraft Titanium Hobby Knife
Tired of cheap hobby knives with no grip, wobbly blades and broken ferrules rolling off your bench? Step up your tool game with the Tankraft Titanium Hobby Knife! It's the MVP of all scale modeling tools. Make sure you have a good one!
Built from solid titanium

Dimpled handle for extra grip

Threaded cap keeps your blade safe

Hang on the wall with the included split ring

Uses No. 11 hobby blades

The silicone Tankraft Rollstopper stops the roll!

Includes 2 Rollstoppers. 11 blades, split ring & spare o-ring

5.93 in. closed, 5.5 in. open, .31 in. handle diameter, .43 in. cap diameter
Weighs 1.2 oz.
IMPORTANT INFO: Due to precision machining this knife will not work with all blades. Our own US made blades will work, of course. More available here. Standard No. 11 X-acto® brand blades will work. OLFA® blades won't fit, for example.

OUR GUARANTEE: If you're not completely satisfied, contact us within 30 days of delivery so we can make it right.

Already got one? Please leave a review below!